Beetle Boy
A WARM WELCOME FOR MY NOVEL OF ONE BOY'S JOURNEY OUT OF A HAUNTED (by beetles) CHILDHOOD.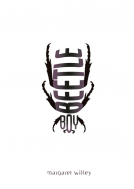 Starred Publisher's Weekly Review:
"A potent story about the power that the past exerts on the present." Ages 13–18. (Sept.)
"Willey takes readers along on Charlie's painful journey back to physical and emotional health via a meandering timeline of flashbacks, dreams and wrenching conversations, skillfully weaving together the bits and pieces of his life. Innovative use of type brings an immediacy to Charlie's struggles as he slowly looks the truth—and his brother—squarely in the face. Demanding—and riveting." (Fiction. 13-17)
"Willey crafts a delicate psychological landscape through carefully timed flashbacks, showing how injuries (and small kindnesses) from the past inform future relationships. Relentlessly honest, and also hopeful."
"Charlie's intense dreams about his childhood and his uncertainty about his future fuel a powerful, angst-ridden narration that grips the reader from page one."
From a wonderful blog review from Feathered Quill:
"Willey is a great author; she can weave sadness, trauma and tragedy with light, kindness and hope absolutely flawlessly. This allows readers to cry, but tears of faith, not pain. The story is open, fresh, and literally holds one of 'those' lines that you will remember long after you're done with the book: 'Good luck with your childhood.'"

Read the entire review here